Ready to channel your inner energy for peak business performance?
Introducing 'Zenful Business' the newest book from Debbie Pask, Australia's leading senior executive business coach.
For many years, leaders, executives and entrepreneurs have used the Debbie Pask method to channel energy for business success. And now in this new book, Australia's leading business coach reveals how you can join them.
For the first time ever, Debbie shares the zenful business formula that lets you master your energy, performance and flow at work.
In 14 clear and simple chapters you can follow at your own pace, you'll discover how to:
Master your internal "energy tap" and turn it on whenever you need it
Unblock your energy flows to remove obstacles
Energise your mind and body to make better executive decisions
Increase intuition to stay 100% connected and focused on your business life
Explore your higher self to become more alert to workplace opportunities
"Five Stars.
Well written and balanced book.
Lots of "Gold" in here for business owners."

Amazon Customer

United States 2016

"Practical, insight, easy to read and so beneficial...
Such a great read - practical and call's it like it is. Great practical examples and presented in a way so that people from all walks of life can benefit from the insight (professionally however also crosses over to life in general). Thanks for taking the time to document your learnings and your own path Debbie to share with us all to benefit from."

Fleur Jolley

United States

"Inspiring and Practical.
Love this book. The models which were presented bridged both running my own business, as well as my personal life. Inspiring and practical. Thank you."

Amazon customer

United States
Master your personal energy to supercharge your business strategies
For any business owner, manager or entrepreneur, your energy is the number one priority as this is your most powerful tool. It's what gets you out of bed every day. It's what draws opportunities to you and it is what keeps you charged up and firing so that you can perform at your best.
Zenful Business teaches you 11 models to master your performance at work – combining practical tools, techniques and strategies for developing your own customised energetic building blocks. In this book, EAST meets WEST to finally integrate personal power with the commercial intelligence you need to thrive at work.
This is more than just a series of ideas, it is a "How To" manual and a personal workbook to use in your everyday working life. It will help you stay connected to your work passion, make intuitive decisions and to triple the effectiveness of any business strategy.

About the Zenful Business Model
Whatever stage you're at in your life or career, you'll find the concepts within the book relevant to your journey. And you'll be able to quickly apply what you learn.
Here's why:
Tried-and-tested tools and techniques
Developed and refined over Debbie's 14+ years as a business coach – and now available for you to apply
Bonus videos and audio
Supplement your learning with extra resources, so you can dig deeper into what really moves you
Written exercises
Specifically designed in a way that ensures you absorb and retain the knowledge
Scientific evidence for greater understanding
Explore the relationship between quantum physics and your inner energy, giving you deeper knowledge and confidence
Zenful Business Book

AUD

29.00

(including 10% GST)

"Debbie adds value to my business by seeing things and hearing things from my team that I am unaware of or neglecting. She has an incredible gift for understanding what's really going in people's heads and hearts. I have never met someone so good at going from right to left brain as the situation or conversation demands."

Philip Shaw

Director of Cleverclicks

"Debbie is a very rare mix of a being a very commercially astute person / spirituality attuned / all-round special individual. In the 2 years I have been working with Debbie as my business coach I have achieved projects that in the past I would have only dreamed of. I have refereed clients, family and friends to Debbie without hesitation as she is a very special person and it's amazing what you can achieve with her in your corner."

Geremy Glew

Director of Placed Receruitment

"Debbie is really a one in a million coach who effortlessly bridges both personal and professional challenges. She is a highly experienced strategic thinker who can quickly grasp complex systems and dynamics. At the same time she is also a creative and intuitive whizz, finely tuned to the personal. Her ability to see the big picture without losing sight of logistics and systems means she can facilitate swift seamless transformation – both personal and professional with her 'zenful magic'. Brilliant for business coaching, personal coaching and everything in between."

Claudia Chambers

Director of Cloud9 Coaching
Learn the zenful business models for flow and peak performance at work to master your own energetic flow and get in your zone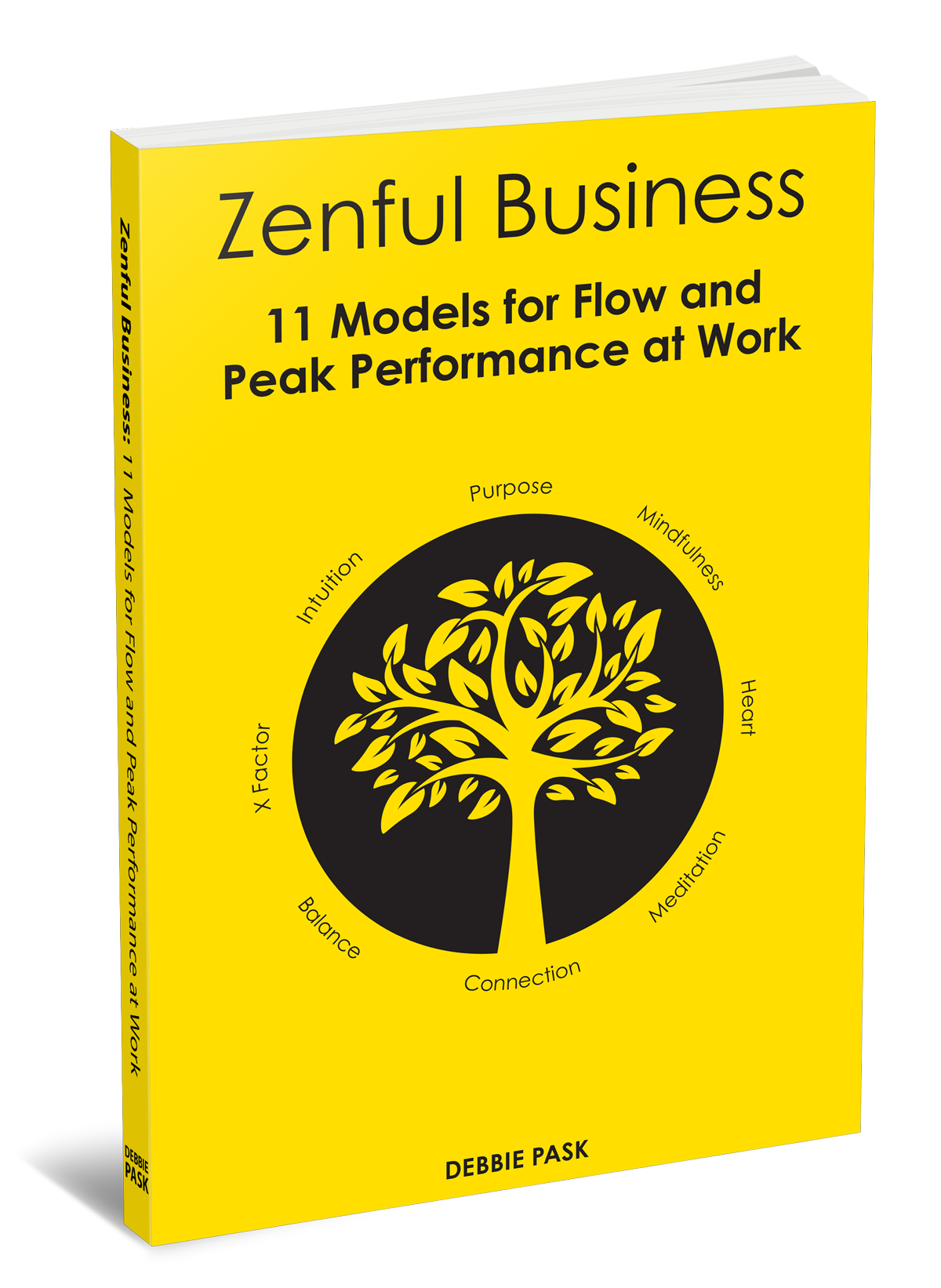 About the Author
Hi, I'm Debbie Pask. For the past 15+ years I've helped some of Australia's most senior executives to channel their energy and enjoy business success.
I am an experienced business coach specialising in mindfulness, purpose and value. I now coach and teach people on a global scale to access and master their inner energy and performance at work.

Master your own energetic flow
to have a Zenful Business